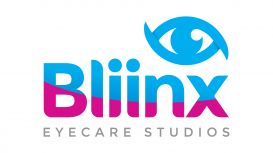 A friendly community opticians run by husband and wife, Giles & Sarah Hall.
Sarah has worked as an optician in practices and hospitals for 17 years. She prides herself on good service to her patients.
Supported by the friendly team Bliinx has all you need from a quality practice.
It is family friendly with iPad, toys and magazines as needed and space in the consulting room for you and your child if you need.
It has ample free parking and easy access.
It is open on Monday to Friday and Saturdays until 13:00.
---
Services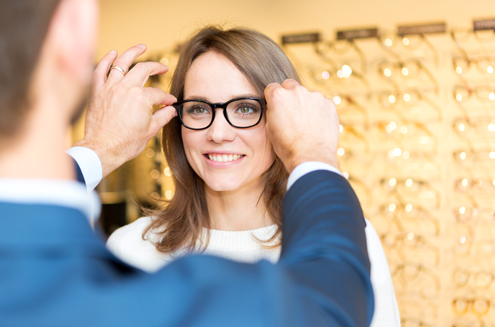 Sight Tests:
Appointments for a sight test last for 30 minutes here at Bliinx. We take more time than high street practices to provide a thorough eye examination at a pace you are happy with. Not only do we aim to test your vision and prescribe as needed we check thoroughly the health of the eye itself. This includes looking for conditions that can have a significant influence on your life such as diabetes, glaucoma and macular degeneration.
The ongoing renewal of equipment is part of this process as we continually invest in the health of our customers. Of course Under 16's sight tests are free as are tests for the over 60's, in addition if you have a relative who has had glaucoma you may also be entitled to free eye tests.
Contact Lenses:
If you prefer the practicality of contact lenses then we are here to help. We can offer a contact lens fitting with our optician and supply the best branded contact lenses at great prices, offering all the support you need with your lenses. We can have these delivered direct to you door or you can collect from the practice.
Minor Eye Condition Services:
Here at Bliinx our opticians are registered with the Minor Eye Condition Service for North East Hampshire. This means that rather than having to attend your GP you can come here free of charge for an assessment. Please call us as soon as you can if you feel you need to attend for any of the following reasons and we will do our best to make you an appointment.
Blurred Vision / Red Eyes / Dry Eyes / Pain or Discomfort in the eyes, eye area or temple / recent onset of flashers or floaters in one or both eyes / mild trauma (e.g a scratch to the outer surface of the eye) / significant recent discharge from or watering of the eye.
Frames & Lenses:
Glasses can be an important part of you and your image. It is not a decision to be hurried. Glasses have a very functional element but this has also turned into a fashionable one too and we are here to make sure you feel good in your glasses. You can browse at your leisure and try out the fantastic range of frames we have here in store.
If you would like assistance and advice we are happy to help. You can even book in an appointment with our dispensing optician to have your dedicated time. We supply lenses from Hoya, one of the best lens manufacturers. These are great quality and a variety of options are available for you to choose from to suit your requirements.
Reviews and Ratings
We do not have any reviews about Bliinx Eyecare Studios available right now.